Burning any item can provide heat; however, each item generates different pollutants—some of which may be worse for the environment than others. This has been emphasised by the UK government when it launched a new clean air strategy in 2019. The goal is to make the air healthier breathe and protect nature, which can both positively affect the kingdom's economy. The whole country has a particular emissions target by 2020 and 2030, and every household is expected to participate in it!
If you have a wood-burning or multifuel stove at home, then you might be wondering what implications using it can bring to your gas emission contribution. You should know, though, that thanks to the development of the stove industry over the years, current wood-burning and multifuel stoves have improved a lot! These modern stoves are considered 80% more efficient than their earlier versions. They also create 80% fewer air pollutants than stoves once made years ago.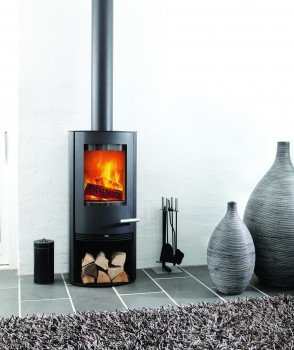 With a wood-burning or multifuel stove, burning waste is so simple to do; however, if you want to avoid bringing danger to the air you and everyone else breathe, here are the items that you should avoid burning at all cost:
Painted or treated wood
Any material that has been treated with chemicals will release toxic chemicals when burned. These chemicals will bubble and boil, discharging liquids and smell that can be hazardous to anyone's health.
Some might say that paints today have no lead content, but this fact will not make paints any less dangerous! They will still release harmful chemicals when burned—so be wary of throwing these into your stove.
Coloured paper
Like wood, any materials with colour has been treated with chemicals at some stage. That means burning pizza boxes, wrapping papers, cereal boxes, and magazines can be harmful to the environment! When burned, these materials release corrosive and carcinogenic gases into the atmosphere.
Any plastic
Did you know that burning plastic, even in small amounts, releases toxic chemicals such as sulphur dioxide, hydrochloric acid, heavy metals, and dioxins? These chemicals are extremely threatening to one's health and the environment. As such, no matter how infrequent you do it or how small you think the item is, never consider burning plastic products.
Chipboard, Plywood, etc.
Have you tried burning treated plywood versus a dry log? If you did, then you probably noticed how different the two were.
You will observe that the heat, smell, and even the smoke is different. Just because it is made from wood does not mean that it is okay for burning! These chemically-treated materials are more likely to release carcinogens and toxic fumes to its surroundings, so avoid burning plywood on your stoves.
Cardboard
Cardboards burn well, and it is one of the most common fuels for a wood-burning or multifuel stove. However, just like chipboard and plywood, this material is treated with resins and chemicals. As such, burning it releases toxic chemicals to the environment, endangering the lives of the people at your home.
Christmas tree
Unless you cut your Christmas tree directly from a forest, it is probably a treated home display. By this time, you already know how burning treated materials could harm anyone else. So, just do not consider burning that old Christmas tree!
Conclusion
The list can go on and on, and they can be overwhelming, but the rule of the thumb is this: any material that has undergone any chemical treatment should not be used as a fuel or burned on stoves. Always stick to what fuel is recommended by your stove manufacturer and clean it regularly to make sure that you are not contributing to the UK's air pollution!
If you have not converted your stove yet and want to switch to wood-burning stoves or multi-fuel stoves, we can help you find the right stove for any room! At Stove Scotland, we have comprehensive knowledge of stoves, and we supply, install, and even maintain them for you. Contact us today to learn more about our products and services.