Having a wood burning stove is a great way to keep you warm, especially during colder days. However, if you have a unit that doesn't perform as well as it used to, then you can't get much use for it. You may even have to spend more on fuel and endanger your household because fumes can easily be misdirected. Fortunately, you can look into replacing the entire unit. You just need to check if this is the course of action you should consider. For further guidance on that, use this article as your reference.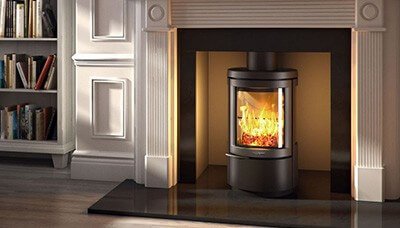 What Is the Typical Lifespan of a Wood Burning Stove?
The general lifespan of wood burning stoves is 10-20 years. Still, some stoves can surpass 40 years if all the necessary maintenance checks, worn-out components replacements, and other means to preserve usability are consistent.
Even if these stoves can last for a long time, many users and stove installers ask if it's worth keeping them due to the inefficiency, overconsumption of timber to yield favourable heating, and the like. You may even be better off getting a multi-fuel stove to supplement heat with other sources. But if you want to find the perfect replacement, you can look into the newer models for wood burning stoves to meet your necessities and lifestyle.
Why Should I Get New Stoves Instead of the Old Reliable Models I Know?
As a wood stove owner, you may have your convictions set on the current amount of investments and sentimental value of your current unit. Although it may be meaningful for you to keep it going, you may expect some environmental issue. In fact, most stoves produced ten or more years ago can release more than 80 per cent emissions than the latest stove manufactured. Newer stoves are also 90 per cent more efficient, meaning you can save more time and money on general use.
What Are the Possible Signs That Signify I Need to Replace My Current Stove?
Refer to the following signs and their respective descriptions to see if you need to replace your current wood burning stove with a newer model:
Warping around the stove's main form: While most cast iron and stainless steel stoves can withstand intense heat, over time, the main form tends to have bumps and indents. These imperfections are telltale signs of overfiring, meaning the steel or iron used to build your unit can no longer process the fire and wood properly. As a result, the stove warps.
Rusts and cracks: Your stove can have rusting and cracks due to improper condensation from inside the unit, even if there's a high presence of heat. You can also expect rainwater, humidity, and poor cleaning to be factored into this issue.
Too much smoke and dirt: You can expect your stove to release smoke, dirt, and ash as fire burns, but if it's more than usual, then there's a problem. However, before opting for replacement, you may also want to consider repairs, especially if your stove is still around 5-10 years old. Consult with a specialist for further information.
Conclusion
Wood burning stoves can last for a long time, but you have to maintain and check them if they need to be replaced. You may also consider repairs if it's a feasible option. To make the best decision for your needs and preferences, note all the previously mentioned information and consult with professional stove installers like our team for further assistance.
Are you looking for high-quality wood burning stoves in Scotland and the UK to replace your current ones? We at Stove Scotland can provide you with that and other models for your convenience. We can also install your new unit to ensure you have efficient heating for your space. Claim a free quote today to have a better understanding of what you need.