Regardless of our taste, we believe it is prudent to get a stove. Going shopping for your first stove might be frightening, especially if you don't know what characteristics you're looking for.
It is critical to choose between a wood stove and a multi-fuel stove. This article will assist you in selecting the best stove for your home by examining the benefits and drawbacks of multi-fuel stoves and wood-burning stoves.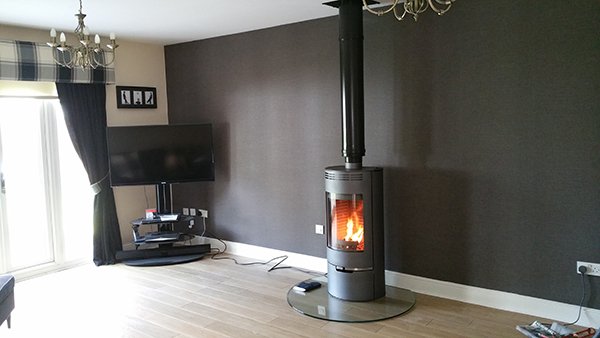 What to Know: The Multi-Fuel Stove
Multi-fuel stoves are those that can burn various types of fuel in addition to wood. In these devices, logs, peat or turf briquettes, coal, anthracite, and other smokeless fuels can all be burned. A multi-burning stove may only be used in a smoke-controlled environment if it burns smokeless fuel. If you want to firewood, you must have a DEFRA-certified multi-fuel stove.
Multi-fuel stoves are those that can burn more than one type of fuel. A riddling grate positioned above the floor of the stove allows for better ventilation and guarantees that fuel is burned without producing smoke. The riddling grate collects ash in the ashpan, which must be cleaned after each use to ensure that air can circulate freely around the stove and that fuels burn well.
What to Know: The Wood-Burning Stove
Wood-burning stoves require nothing more than logs of wood as their primary fuel source. They often have a flat base where ash can accumulate. In wood-burning stoves, the rate of combustion is increased; this does not apply to stoves that can burn more than one type of fuel. For this, only use wood that has been properly dried and aged at all times.
You may believe that if you reside in a smoke control area, you cannot buy a wood burner; however, this is not the case if you buy a DEFRA-certified stove.
4 Elements to Help You Make the Right Choice
You might be here because you need help in making the right choice. Simply keep the following in mind while buying a stove that can burn a variety of fuels in addition to wood:
1. The Pricing
Prices for wood burners and stoves that can use a variety of fuels are comparable. A lower-quality model can be acquired for a few hundred pounds, while a higher-quality model can be obtained for a couple of thousand pounds.
Prices for various types and qualities of fuel vary greatly.
2. The Aesthetic Appeal and Design
Wood stoves and stoves that can burn a number of fuels are available in a variety of styles and sizes. It is critical that whatever type you choose complements the rest of your home's décor.
3. The Eco-Friendliness
It has been debated whether or not stoves are environmentally friendly. Wood-burning stoves emit no carbon dioxide. As long as you buy your wood from a merchant who promises to plant new trees, the amount of carbon dioxide released is equivalent to the amount of carbon dioxide absorbed by the tree while it grows.
The type of fuel used in multi-fuel stoves impacts how eco-friendly the equipment is. Smokeless fuels have a higher combustion efficiency than coal.
4. The Functionality and Simplicity
Multi-fuel stoves are those that can burn a range of fuels. You have the option of picking local fuel suppliers based on their product prices and availability.
Wood-burning stoves don't provide the same level of comfort, but getting your hands on some logs shouldn't be too difficult.
Conclusion
Nowadays, customers like you want an all-around stove that is easy to use, modern, priced properly, and aesthetically pleasing. After all, a stove may or may not break your kitchen. Now that you know how to choose between multi-fuel and wood-burning stoves, you can finally make the right choice.
Are you looking for stove fitters in Scotland? Stove Scotland is a team of professional retailers of multi-fuel and wood-burning stoves. Contact us today to learn more about our services!