There's no denying the importance of a wood stove for your home. This heating appliance is designed to warm your space by burning timber as its fuel. When you light the wood in your stove, fire is produced, and it heats up the air in your room to make you comfortable.
There are various models of wood-burning stoves readily available in today's market, and they come in different shapes, sizes, materials, colours, and designs. Because of this, it can be a bit confusing to find the right appliance best suited for your home and family.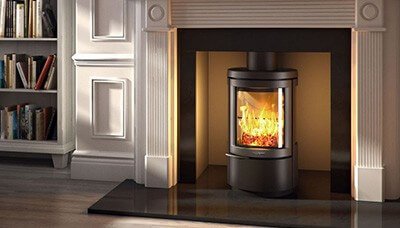 Fret not, as we've rounded up five key factors that you must consider when looking for a wood stove for your home:
1. Stove type
Before you begin your search, you must first look at the two primary types of stove to see what option to choose. Take note of the following:
Wood-burning: This heating unit is a stove that burns only wood and no other fuels. For this stove, you may use wood materials like logs, pellets, or chips. You also have the option to choose between a log burner and a pellet stove.
Multi-fuel stove: This heating unit is known as a mineral-fuel stove because it doesn't only rely on pieces of wood for fuel. Because of this, it can burn coals and smokeless fuels to warm your home space.
If you're choosing between the two, it all boils down to your family's needs, home type, and the fuel available in your area.
2. Installation
After choosing the type of stove you want, you must determine how you want to install it in your home. Here are two installation options you can go for:
Freestanding: This heating unit can stand alone. All it takes is for you to purchase a model and position it somewhere in your house as needed.
Insert: This heating unit is similar to the freestanding stove, but the difference lies in how this stove insert is required to be located within your existing fireplace.
Here at Stove Scotland, we provide stove supply and perform stove installation and maintenance services. We also offer supply and installation packages to meet your requirements and budget!
3. Materials
As far as the stove materials are concerned, you have the following popular options to choose from: steel or cast iron. Both materials are great conductors of heat, but they differ in the way they release heat. As such, be sure to consider the details below:
Steel: This stove releases the heat more quickly into your room but doesn't retain the heat for so long.
Cast iron: This stove takes longer to heat up, but the heat stays for a much longer time in your room.
4. Combustion
A wood-burning stove won't work properly without combustion. Combustion is simply the scientific term for burning, which occurs when a substance reacts with the air's oxygen. Here are two types of combustion you may want to consider in a wood stove:
Catalytic: This wood stove with catalytic combustion usually has a more efficient and cleaner wood-burning than its counterpart. Yet, it is considered a high-end stove with an added level of complexity.
Non-catalytic: This wood stove still provides a high efficiency and heat output through a secondary combustion process. Know that most of the wood stoves in the market are non-catalytic.
Conclusion
A wood-burning stove is indeed an excellent investment for your home. However, you will want to make sure that you're choosing the right appliance by considering its type, installation, materials, and combustion. With all these in mind, you'll be able to make the right stove selection and purchase decision!
We have a wide variety of top stove brands in store and provide installation and maintenance services with quality and customer satisfaction. If you're looking for a wood stove in Scotland, get in touch with us today for a free quote!